Dreamtown Fiesta featuring Chota Madre and Bombazo Dance Company and Film Preview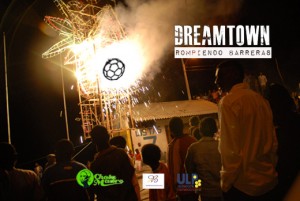 The public is invited to a film screening and music party on Thursday, July 18 in the Lower East Side, Manhattan benefiting Dreamtown, the first film of its kind telling the story of Ecuador's Afro-community that has been transformed by its famous world cup soccer players, who are helping to rebuild their hometown and inspiring a new generation of players to reach for their soccer dream. The event will raise post-production funds to complete the film in time for the 2014 World Cup, and celebrate the rich culture of the African-Diaspora.
The event will feature music by acclaimed Bomba group Chota Madre, and a performance by Milteri Tucker from Bombazo Dance Company.
Betty Bastidas and the producing team will be present to meet guests and talk about DreamTown, which she began in 2007. Today, they are in the midst of a fundraising push to finish.
Dreamtown has been made possible through the support of individual donors and self-financing.
Thursday July 18, 2013 @ 8pm $10
@ The Clemente Soto Cultural Center
Abrazos Gallery
(Clemente Soto Cultural Center) 107 Suffolk St NYC
Featuring Music by Chota Madre
Dances from Milter Tucker, Bombazo Dance Company