Dreamtown Releases New Trailer on Kickstarter
Dear family, friends & colleagues,
Here we are two years after our first highly successful Kickstarter campaign that allowed us to continue on our journey to capture defining moments for our documentary Dreamtown. We are eternally grateful to all of our previous backers. Because of all of your financial support, we are now ready for one last push to the finish line—to bring Dreamtown to an international audience, just in time for 2014 FIFA World Cup Brazil. Once again I ask for your help in bringing our film to completion through our new fundraising effort, Dreamtown Final Cut. I thank you in advance for your help!
Catch our new trailer release for our Kickstarter campaign here:
http://tinyurl.com/dreamtownfinalcut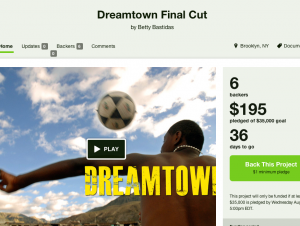 As many of you may know, I have been working on Dreamtown for nearly 6 years, an HBO-NALIP grant-awarded documentary that has been very close to my heart—a tribute to my homeland—Ecuador.
Dreamtown follows three devoted players—Carlos Maldonado, a protégé; Anibal Chala, an amateur; and Ulises de la Cruz—as they overcome extraordinary challenges on their path to the soccer dream. These players have made great sacrifices to save their families from poverty, uplift their community and give pride to their country!
EVERY DOLLAR COUNTS for OUR GOAL:
$35K in 36 days
We have a long road ahead of us but with the strength of the community behind us, we are determined to finish. For those of you unfamiliar with Kickstarter, you can view our project video and can select a different contribution level based on what you can give. It's VERY easy – the link will guide you to pay through your Amazon.com account and you will only be charged once we reach our goal of $35,000.
Funding Supports
While principal photography has been finished, we need funds to complete the following post-production line items:
Hiring an editor
Completing a musical score
Hiring a colorist and an animator
Paying for archival footage fees
Developing curriculum and publicity materials.
PLEASE SHARE OUR STORY WITH YOUR FAMILY AND FRIENDS…
PLEDGE FIRST WEEK TO GET US ON KICKSTARTER'S MAIN PAGE
This model works best when we are able to reach beyond our immediate network so please please take the time to share this with friends and family who you think may be interested in supporting the project.